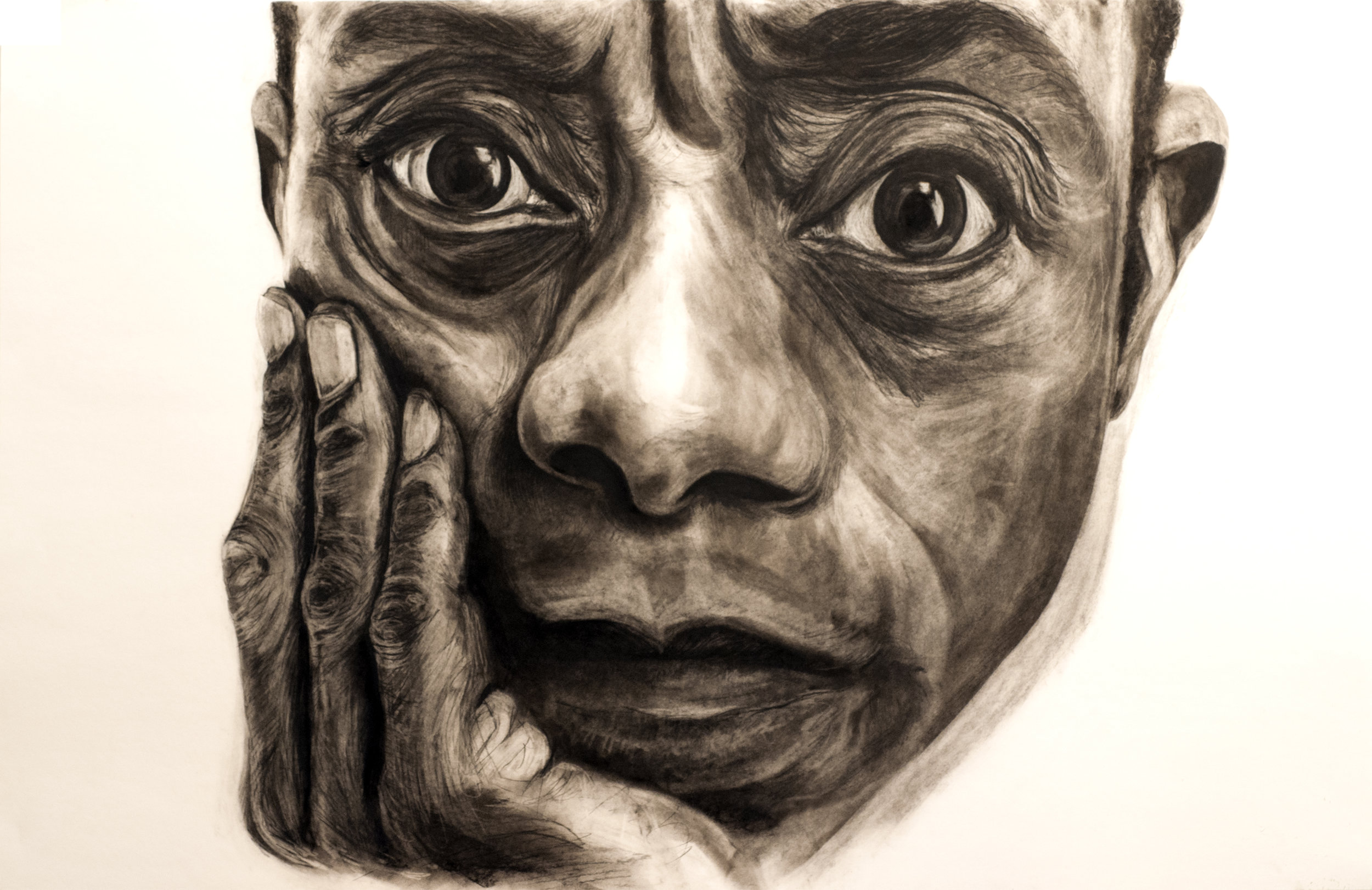 Baldwin (2)
charcoal on paper; 22'' by 35''
sold
Baldwin (1)
charcoal on paper
23'' by 33''
sold
Hebron (funeral)
charcoal on paper
21.5'' by 33
Egypt 2013, 4 (protest)
charcoal on paper
21.5 by 33''
Flint 1
charcoal on paper
21.5 by 33''
Gaza 3 (lost father, July 2014)
charcoal on paper
21.5 by 33''
Michael Brown (Ferguson)
charcoal on paper
21.5 by 33''
Syria 2013, 2
charcoal, pastel, acrylic on paper
21.5 by 33''
Galeano
charcoal on paper,
21.5' by 35''
available
Eduardo Galeano (b. 1940; d. 2015) was a Uruguayan journalist, writer and novelist considered, among other things, "global soccer's pre-eminent man of letters" and "a literary giant of the Latin American left," having written dozens of books spanning decades. His histories of the Americas, written in the style of historical magical realism, are both gut-wrenching and devastatingly beautiful.
Some of his books include Open Veins of Latin America, (1971); Children of the Days: A Calendar of Human History (2011); Days and Nights of Love and War (1978).
The author Isabel Allende said her copy of Open Veins of Latin America was one of the few items with which she fled Chile in 1973 after the military coup of Augusto Pinochet, calling it "a mixture of meticulous detail, political conviction, poetic flair, and good storytelling."
"In 1492, the natives discovered they were indians, discovered they lived in America, discovered they were naked, discovered that the Sin existed, discovered they owed allegiance to a King and Kingdom from another world and a God from another sky, and that this God had invented the guilty and the dress, and had sent to be burnt alive who worships the Sun the Moon the Earth and the Rain that wets it."
--- --- ---
"Always in all my books I'm trying to reveal or help to reveal the hidden greatness of the small, of the little, of the unknown — and the pettiness of the big."
Standing Rock
charcoal on paper
21.5 by 33''
Michael Bennett
charcoal on paper,
21.5'' by 35''
available
Michael Bennett (b. 1985) is an American football defensive end for the Philadelphia Eagles, an author, and an outspoken political activist.
After Colin Kaepernick famously took a knee, Bennett chose to sit for the anthem through the 2017 NFL season.
Bennett has also boldly spoken out against police brutality, including going public with a statement after he was unlawfully assaulted by police in Las Vegas, ordered to lie on the ground, and told that if he moved the officer would "blow [his] fucking head off."
An excerpt of the statement read:
I have always held a strong conviction that protesting or standing up for justice is just simply, the right thing to do. This fact is unequivocally, without question why before every game, I sit during the national anthem—because equality doesn't live in this country and no matter how much money you make, what job title you have, or how much you give, when you are seen as a "N----," you will be treated that way.
The system failed me. I can only imagine what Eric Garner, Michael Brown, Trayvon Martin, Tamir Rice, and Charleena Lyles felt.
His recently released book, published by Haymarket Books, is titled Things That Make White People Uncomfortable. In it, Bennett writes about being motivated by everyday injustices: food deserts in Black and Latinx communities, the tired eyes of the young people he visits in juvenile prisons, the fight against police violence, the need to link struggles against racism with movements to uplift women and stand up to gender violence.
Bennett has said that his biggest fear is "not being heard."
I fear that people will just see the gesture of sitting during the anthem and not hear my reasons, or they'll accept the distortions put out by the media. That's why I'm writing a book, because this isn't about sound bites or tweets or Instagram quotes. This is about trying to push forward with a movement that can benefit all of us.
In early April 2018, as his book was released and he was about to embark on a multi-city speaking tour, the Houston Police Department issued a warrant for his arrest, based in bogus charges accusing him of hurting an elderly person at the super bowl 14 months prior, the charge based on the account of one witness who had not come forward until his book release.
Bennett maintains his innocence.
Kalief (4)
charcoal on paper,
21.5'' by 35''
sold
Kalief Browder (b. 1993; d. 2015) was 16 years old when he was sent to Rikers Island on a three-year sentence for stealing a backpack, a crime he maintained he did not do. While at Rikers he was forced to spend time in solitary confinement (nearly two years altogether) and suffered from physical and mental abuse by prison guards.
He was finally released in 2013 when the prosecutor's case was found lacking in evidence and witnesses.
Soon after his release, Browder passed the G.E.D. exam and then enrolled at the Bronx Community College. Browder participated in the City University of New York's "Future Now" program, which offered a college education to previously incarcerated youths. Due to depression, Browder did not attend college in the fall semester but re-enrolled in the spring.
On May 11, 2015, Browder submitted a paper titled "A Closer Look at Solitary Confinement in the United States" for which he was scored an "A." In it he wrote:
Solitary confinement should be looked at as a whole around the United States and even though changes toward the solitary confinement system have begun in some states, more needs to be done and addressed around the country. In a lot of jails and prisons there are a lot of living circumstances and practices that go on within that are not addressed that people need to shed light on like solitary confinement, for example. Maybe another form of punishment or segregation should be implemented to deal with inmates who break jail rules as opposed to inmates who cause severe harm to other inmates and correction officers because the mental health risk it poses are too great.
Browder had attempted suicide at least twice while in Rikers, and more times upon release.
On June 6, 2015 at the age of 22, Browder died by hanging himself from an air conditioning unit outside his bedroom window at his mother's home.
After being released Browder had said: "People tell me because I have this case against the city I'm all right. But I'm not all right. I'm messed up. I know that I might see some money from this case, but that's not going to help me mentally. I'm mentally scarred right now. That's how I feel. Because there are certain things that changed about me and they might not go back."
Sixteen months after his death, his mother, Venida Browder, died of complications from a heart attack.
Anis
charcoal on paper,
21.5'' by 35''
available
Anis Mojgani (b. 1977) is a poet and visual artist from New Orleans, Louisiana, currently based in Portland, Oregon.
Anis has won lots of awards (as well as winning National Poetry Slam Champion twice) and written lots (5!) of books, most recently In the Pockets of Small Gods.
Check out his work at www.thepianofarm.com
Tighearnan
charcoal on paper, 23'' by 25''
sold
Flint 2
charcoal on paper
21.5 by 33''
"Slit your wrists and use that last bit of blood to draw a smiley face" Or, Hate Mail Selfie
charcoal, paper, watercolor, acrylic, sharpie, pencil on plywood
19" by 19:
Baltimore
charcoal on paper
21.5 by 33''
Gaza 4 (lost child, July 2014)
charcoal on paper
21.5 by 33''
Max
charcoal on paper,
22' by 33''
available
Matt
charcoal on paper, 23'' by 25''
available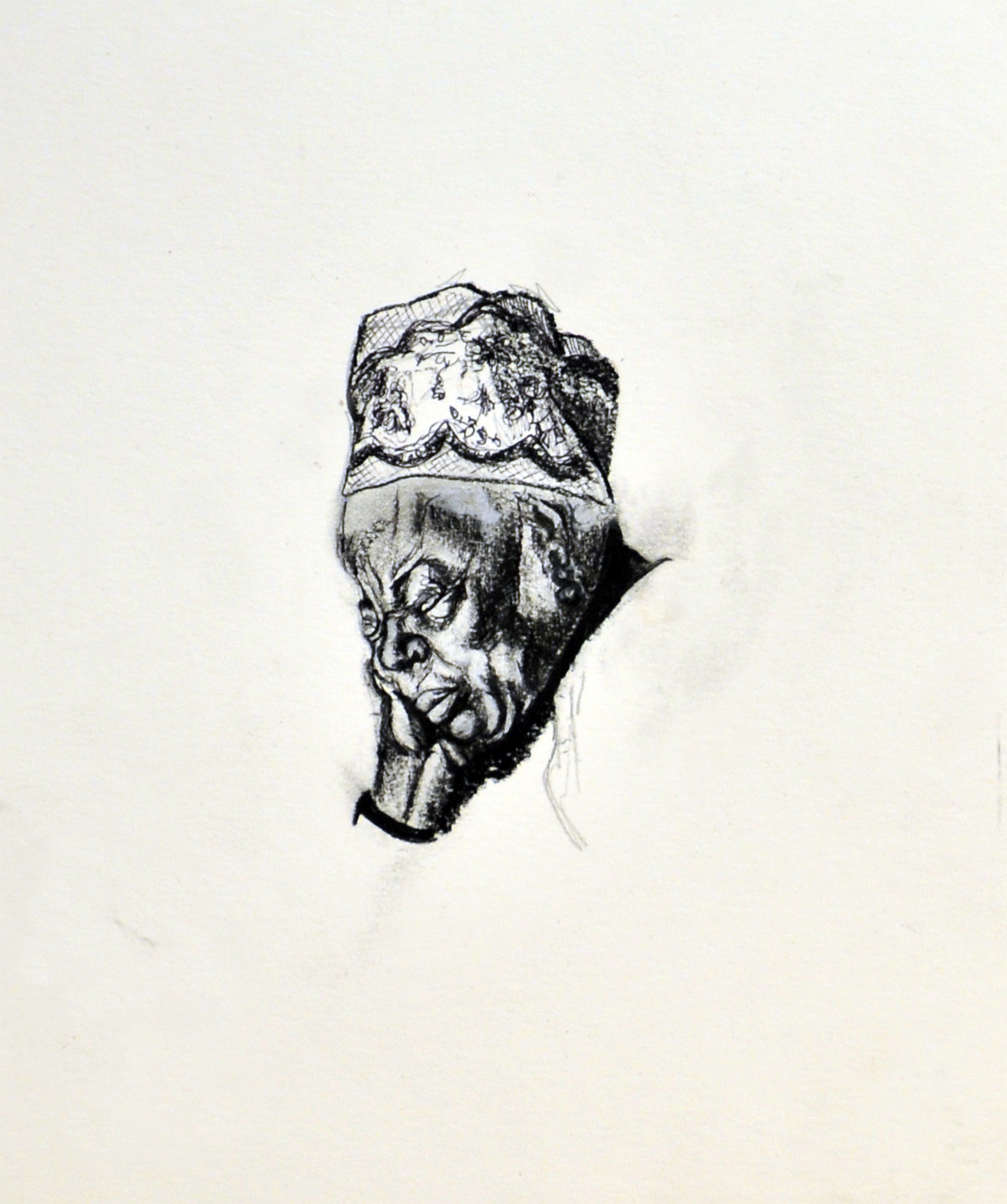 Kalief Browder (Rikers)
charcoal on paper
60 by 64''